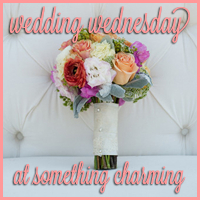 I love everything untraditional when it comes to bridal attire & accessories. So you can probably guess that when it comes to bridal shoes I most definitely will not be wearing white or ivory heels. Oh no. I want something totally different & unique that really shows off my personality & my character. So anyway, for my Wedding Wednesday link-up with Something Charming I wanted to put together a little bridal shoe a.k.a. glass slipper inspiration & showcase some heels that I think would be super fun to pair with a bridal gown. :) What's your bridal style?
Now however I must admit... not all white shoes are created equal...
& if all those beautiful shoes weren't enough for you...
Now if only I had $1,000 to blow on a pair of heels...
:)
Wow I really need to go to bed. Night ya'll!