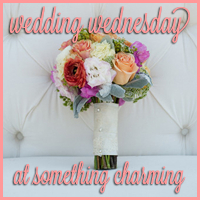 Like pretty much everyone else right now (it seems), I am obsessed with succulents.... & so for this week's link-up with
Something Charming
, I wanted to do a post on some beautiful succulent bouquets :) I don't know why I love the look of them so much but I really wish I could find some in Savannah to buy for some home decor. So... what do you all think? Like for forever? Like for right now? Or no way, too trendy? I bet by the time & age I get married I'll like something completely different.
Dream Wedding #14: Succulent Bouquets
So on a totally different note, I had an umm interesting day today.
I was treated very disrespectfully & was downgraded a lot...
For my job, my boyfriend, my life, etc.
& this happened by someone I considered a friend.
I know I don't have the most glamorous job...
I know my boyfriend is in the army & not a billionaire...
I know, I know, life's rough, right?
Pffffffffft. F NO.
I love my boyfriend like crazy & couldn't be happier being with him,
I love my job like crazy (read this post
here
about me loving it)
Honestly, the only thing I don't love so far about Georgia
is how hard it has been for me to find true friends.
I mean the pee-your-pants-laughing-so-hard
girl-you-can-tell-anything-to-TMI-all-day
silly-goofy-never-embarrassed-of-you-ever
laughs-when-you're-not-funny
comforts-you-when-you're-sad
doesn't-judge-you-when-you're-down
type of friend...
The kind of friends I had back in college.
Anyone have advice? I'd love it... :)
Because ya know...
I used to have friends who liked me for me.
Me to the core.
Not fake me being nice to make friends, but me.
Gahhhhh how I would love that feeling again. :)
Someday...?
Over the rainbow...???????