Today I'm linking up with
C Mae
for her Tail Waggin' Valentine's Day Tuesday link-up! I had every intention of taking some smoochy pictures with Winnie yesterday... Until yesterday when I was in my room & I glanced outside & see Winnie. Not only do I spot Winnie but I spot her
rolling
around on her back. I instantly started snapping pictures of her in the act. Then went outside to get some close ups. Now I know why there are twigs & grass all over our house... She was definitely caught. And if you ask me, I would say by the look on her face she is definitely not sorry for her actions. But I must say I am very very happy that she loves her new backyard! She also buried a bone the other day too. Which I must video tape at some point because it's pretty adorable the way she uses her nose.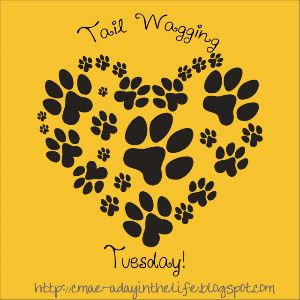 I honestly can say I have the cutest dog in the world. Now, I just had to add some wedding inspiration to this post! & lemme tell you, Winnie will be in my wedding! I mean unless for some reason I don't get married for another 10 years... (she's 9ish) She is probably the best first dog I could ever have. I know I'll be the kind of person that always has a dog. So anyway, here is some lovely, cute, adorable, doggie wedding inspiration for a lovely Tuesday! Hope this makes you smile as much as dogs make me smile! I had to add this to my Dream Wedding series since well, it is part of mine! :)
Dream Wedding #5: Dogs
If you weren't planning on it before.. I sure hope now
you will think twice before leaving your dog at home on your wedding day.
Well, unless you are having your wedding in some hoity toity place.
Then I guess that's alright... ;)
Have a great Valentine's Day!